One of the most frequent questions I am asked is how to become a lactation consultant.  The term "lactation consultant" is not trademarked.  Since anyone can use it, it is important to understand the differences in specific trainings and certifications, as the difference is huge.  The Massachusetts Breastfeeding Coalition has good information on the different credentials.  IBCLCs (International Board Certified Lactation Consultants) are the only breastfeeding professionals who specialize in the clinical management of breastfeeding.  We adhere to a Code of Professional Conduct and have a clearly defined Scope of Practice. IBCLCs are recognized throughout the world as possessing the only standardized, board certified lactation credential available.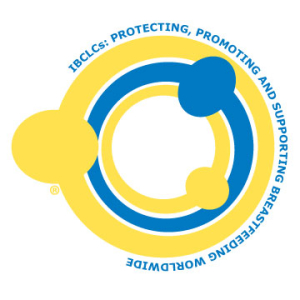 Although there are several pathways to becoming an IBCLC, it isn't an easy process.  Like many other careers, it takes years of preparation and thousands of dollars of initial and continuing education and training. The following link is a great place to start learning about becoming an IBCLC.
Wondering How to Become an IBCLC?
Especially in our area, quality breastfeeding support is extremely lacking.  I am happy to discuss my experiences and do whatever I can to support anyone who would like to begin the process of IBCLC certification.  You also may like to attend monthly meetings held by the Midland County Breastfeeding Coalition.
My desire since attending college has always been to work with mothers and babies.  In 2004, after having my second breastfeeding baby, I discovered La Leche League.  Two years later, I finished the accreditation process and became a leader. I started a monthly support group and began providing in-home, phone, and email support to breastfeeding mothers.  Back then I knew little about the IBCLC credential, but La Leche League became a huge part of my life, not only in my own parenting, but in setting the foundation for what I would eventually choose as a career.
As my children grew older and I volunteered more, I began to support mothers through some very difficult situations.  Although I was able to provide lots of emotional support, I sometimes didn't have the answers to breastfeeding challenges.  I love learning and I strive for excellence in everything for which I am passionate.  I deeply desired to increase my clinical knowledge of breastfeeding and after much consideration, decided that becoming an IBCLC was the path I should take.  I had a degree in social work, so I already had the required college courses.  After 140+ hours of breastfeeding education, 8 years, thousands of hours working with breastfeeding mothers, and a summer of full time studying, I passed the board exam and became an IBCLC.
Many people believe the fees IBCLCs charge are high and assume they can make a lot of money in choosing this career.  But being an IBCLC, especially a non-RN in private practice, is very expensive and time consuming.  Behind the scenes, there is the high cost of continuing education, recertification, liability insurance, travel, and all the costs of owning a business.  Many private practice lactation consultants I know volunteer a lot of hours in their community and spend many hours each week answering "quick" questions and following up with mothers.  Travel, dealing with insurance companies, writing physician reports, charting, and research also occur outside of the actual consultation.
In short, we don't become IBCLCs expecting to make lots of money.  We do it because we are passionate about the health of our communities and supporting breastfeeding mothers.  I feel it is a privilege to serve mothers and being a lactation consultant is worth the sacrifices of time and money my family makes!